Flu Season – A Healthy Canadian Office
Typically, in Canda, the flu season lasts from October through April. Winter is the time of year when most people catch a cold or come down with the flu. Is your office staff taking the right steps to prevent flu outbreaks in your work environment? According to the Public Health Agency of Canada, each year up to 7 million Canadians get the flu. Check out these simple tips to keep your office clean for maximum health and productivity.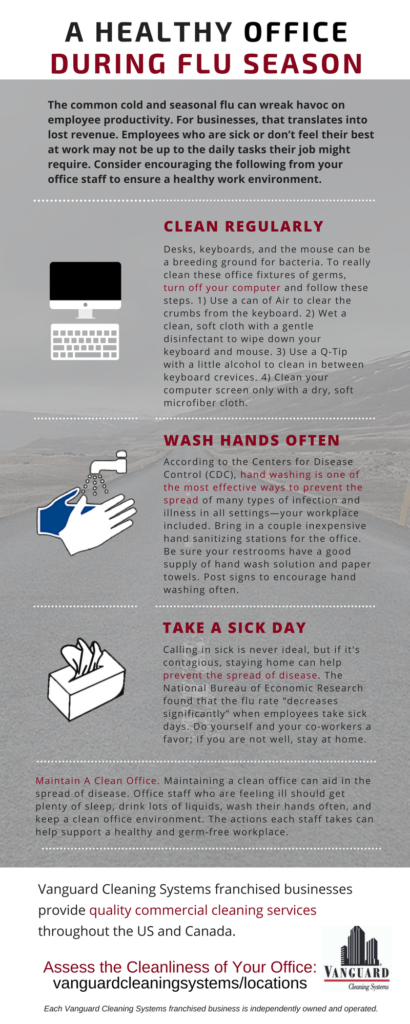 Vanguard Cleaning Systems® janitorial franchise businesses have been delivering high-quality commercial cleaning services and office janitorial services since 1984. Vanguard Cleaning Systems® services are differentiated by consistency, reliability, communication, and quality that can be beneficial to your Canadian office environment.
Have a commercial office cleaning professional assess the cleanliness of your office.
Schedule a Free Cleaning Quote
---
About the Vanguard Cleaning Systems® Brand
Founded in 1984, the Vanguard Cleaning Systems® organization is built upon over 2,500 independently owned and operated franchised commercial cleaning businesses, which are licensed and supported by an Area Franchise network of more than 50 independent regional offices throughout North America. Vanguard® franchised commercial cleaning businesses service over 15,000 businesses, healthcare companies, educational facilities, and non-profit organizations.
Related Posts:
Tips For A Healthy Office
If your commercial building in Canada experiences high foot traffic, consider day porter cleaning services. Learn about day porter cleaning services and if it's right for your facility....
Warehouse & Industrial Cleaning
Operate your Canada warehouse or distribution center at maximum efficiency with industrial cleaning services. Check out the main benefits to a professional cleaning service.