Remove Chewing Gum – Cleaning Tip
Canada's Schools are nearly out for summer, but chewing gum stuck to the underside of student desks, chairs and lunchroom tables may still reside. Here are a few cleaning tips to easily remove chewing gum in the school room.
Use Ice to Remove Chewing Gum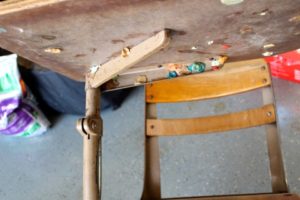 The simplest way to get gum off of a desk is also the most widely used technique. Fill a re-sealable bag with ice and hold against the gum for a few minutes. The ice will freeze the gum which makes it easier to chip off. Be sure to use something like a putty knife so you don't mar the table.
Oil and Gum Removal
Another good technique to get gum off of a desk easily is to apply oil to it. There are a few options here. You can use a paper towel to rub vegetable oil around the area. With a little vigorous effort, the gum should come off. The other oil-based option is to apply something like peanut butter or mayonnaise to the area for approximately 15 minutes. The oils help dissolve the gum and make it easier, like with the ice method, to scrape off with a butter knife.
Duct Tape
They say "duct tape fixes everything" and this includes gummy desks, tables, and chairs in the school. You can press a small section of duct tape to the gum. When you peel off the duct tape often times the gum will come with it.
Soap and Water
For any remaining gum residue, you can use a mixture of warm water and a few drops of dish soap. Use a paper towel to rub the soapy water onto the gum and it should come off. If there's any gum left, repeat the process until no gum remains. Be sure to rinse and dry the spot when finished.
Removing gum is a simple and straightforward process, but some educational institutions have messes too big to clean alone. For those who need a professional commercial cleaning service for their educational facility, contact a local independently owned Vanguard Cleaning Systems® Area Franchise office to schedule a free quote for commercial cleaning services by independent Vanguard® franchise businesses.
---
About the Vanguard Cleaning Systems® Brand
Founded in 1984, the Vanguard Cleaning Systems® organization is built upon over 2,500 independently owned and operated franchised commercial cleaning businesses, which are licensed and supported by an Area Franchise network of more than 50 independent regional offices throughout North America. Vanguard® franchised commercial cleaning businesses service over 15,000 businesses, healthcare companies, educational facilities, and non-profit organizations.
Related Posts:
Schools in Canada might benefit from professional janitorial services that support your in-house custodial team. Here are 4 ways to ally with your cleaning vendor.
Learn what can educators can do to elevate their education facilities cleaning program to help minimize sick days.