blog
/
How to Pick the Right Canadian Healthcare Facility Cleaning Service
How to Pick the Right Canadian Healthcare Facility Cleaning Service
How to Pick the Right Canadian Healthcare Facility Cleaning Service
With cleanliness and health being such important factors for your health care facility, you may be thinking about how to choose the best janitorial service to clean your medical facility. There are many factors to consider. Here is a guide to help you pick.
What to Look for in Healthcare Cleaning Service.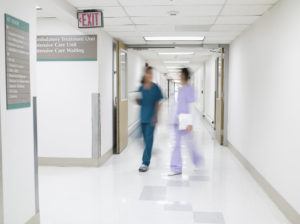 Many custodial services can be ill-equipped to handle all of the challenges that arise in cleaning a medical office. Keep an eye out for a company that offers these capabilities:
Cleaning Practices – Your health care facility is where people go to get well, not become sicker. Minimize the risk of their illnesses with a commercial cleaning service that has healthcare cleaning skills. The company should focus on proper techniques to disinfect, clean, and remove any pathogens or dirt from the rooms; all while making your healthcare office sparkle. They should also employ means to prevent cross-contamination and Healthcare-Associated Infections (HAI).
Education – You wouldn't put your trust in an inexperienced service provider. The cleaning service for your health care facility should be knowledgeable, and up to date on cleaning procedures and advancements in clean environments. This leads to better results for you.
Communication – An important, if not overlooked, factor is finding a healthcare cleaning service that maintains good communication with you. As a customer, you should be treated with care and consideration. And, any concerns you may have should be addressed immediately.
Keep these tips in mind when picking the right healthcare cleaning service. For more information, contact your independently owned Vanguard® Cleaning Systems® Area Franchise office to help you get started.
---
About the Vanguard Cleaning Systems® Brand
Founded in 1984, the Vanguard Cleaning Systems® organization is built upon over 2,500 independently owned and operated franchised commercial cleaning businesses, which are licensed and supported by an Area Franchise network of more than 50 independent regional offices throughout North America. Vanguard® franchised commercial cleaning businesses service over 15,000 businesses, healthcare companies, educational facilities, and non-profit organizations.
Related Posts:
As a facility manager are you faced with these issues to keep your large industrial space clean?
Franchise Business Information
If finding a new source for quality, sustainable accounts is a challenge, look to a Vanguard Cleaning Systems® Janitorial Franchise for help.